carpet cleaners news in Plano
We recently had the privilege of visiting the 9/11 Memorial. Very important to remember and to honor.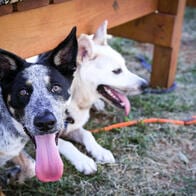 Saturday Aug. 17 is the national Clear-the-Shelters event.
Collin County Animal Services will be participating in the event,
and hope to find homes for lots of wonderful pets that day.
Parker Brothers Carpet Cleaning in Frisco, Plano
encourage everyone to come out and meet your new
best friend!  Our rescue dogs are Annie and Shadow.
They are great!